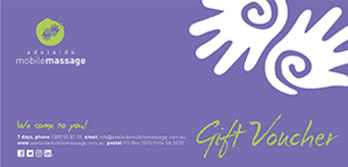 The Perfect Gift Solution
Do you have a friend with a birthday, a Mum just home with her new baby, or would you like to treat someone special?  Well, a massage is the perfect gift that everyone loves to receive. And, It's something different from the usual flowers and chocolates that most people give as gifts too.  
The great news is Adelaide Mobile Massage offers special gift packages that include:
Our beautiful Australian Wildflower lotions
Massage tables
Massage oils
Towels
Music
Keep in mind that massage is extremely effective for reducing stress, insomnia, headaches and it also encourages deep relaxation. Quite often the effects of relaxation can make it difficult to drive after a massage. But with our service, you can just relax for the remainder of the day, without having to go anywhere… because we come to you!
If you'd like to contact us to arrange a gift voucher, please call us on 1300 55 87 55.
or purchase one here Buy Gift Voucher