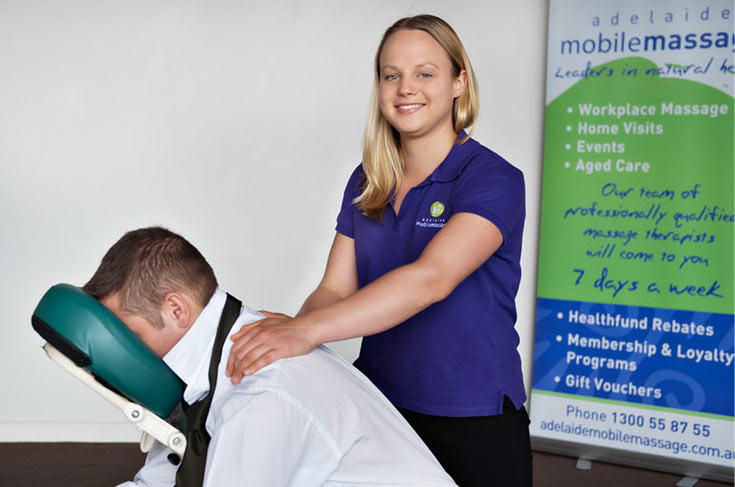 The 10 Reasons Why Businesses Should Invest In Workplace Massages For Their Staff
If you're an employer, you may be sceptical about the value in investing in workplace massages for your company that's fair enough too. You don't want to be spending money that is wasted.
However, research shows there are 10 compelling reasons why offering regular massages to your staff will provide you a return on investment over the long term.
These reasons include the following:
Stand out as a preferred employer of choice that cares about its staff, and attracts top talent

Staff will have an effective way to relieve stress.

Findings from workplace studies reviewed by Monash University suggest that if your company introduces workplace health programs, it will enhance employee performance and productivity.

Encourages wellbeing & harmony in the workplace. Which in turn creates a positive workplace culture and improved employee retention rates.

A reduction in the need for sick days – especially reduced on massage days!

Reduce the risk of workplace accidents & injuries occurring, including repetitive strain injury.

You may be entitled to a tax deduction under Occupational health and safety rules.

Staff may have access to Health fund rebates under the 'user pays' option.

You'll be hiring a South Australian owned and operated business – with local knowledge and know-how.

Staff receive 10% off any Adelaide Mobile Massage home service, including gift vouchers.
Booking Details
A minimum 2 hours booking per therapist is required.
We offer three (3) payment options which include:
Company funded

Shared costs between the company and staff

User pays – staff member pays the full cost of the massage
Adelaide Mobile Massage tailors each massage to suit your work environment and the needs of each individual. We provide the equipment and relaxing music for your comfort, with the massages lasting from 10-30 minutes per person, depending on your needs.
Massage is usually done through the recipient's clothes but lotions are available upon request.
HEALTH FUND REBATES : (under the 'user-pays' pricing option) are available for those people who have private health insurance covering remedial massage.
REFERRAL PROGRAM : If you refer Adelaide Mobile Massage to another business (and in turn they book a workplace massage), we would like to thank you by offering a free half hour massage in your workplace. For example; Book for 3 hours and only pay for 2.5 hours.
PARKING SURCHARGE : Dependent upon location and parking availability, a parking surcharge may apply.
10% OFF: All of our corporate clients save 10% on any gift vouchers or bookings for our home massage services.