Corporate Massage Adelaide
Happy staff are productive staff. Our Adelaide corporate clients who provide their employees with a regular massage at work say their staff value the experience. The massage also improves overall staff productivity.
Very little down time
There's little lost time. We typically work with several of your staff timing the massage so there is little if any productivity impact at all.
Having a neck and shoulder massage provides a welcome break from the computer. Neck massages have been shown to increase productivity, reduce burnout, even decrease the number of sick days and time lost to stress or injury.
Staff love it!
Our Adelaide corporate clients who provide their employees with a regular massage at work report that they love it.
Read more about our Workplace Massage Services or contact us to discuss any questions you may have.
Event Massage Adelaide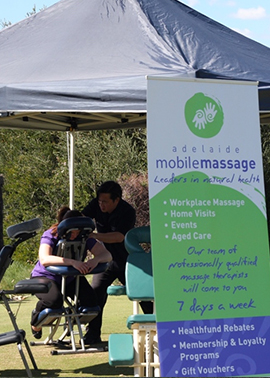 A successful corporate event can be exciting, busy, noisy and crowded. That might mean great news for the bottom line but it can also be quite a stressful environment. Let Adelaide Mobile Massage create a little oasis of peace and relaxation at your next event.
Event Massage is a 'chill-out' for participants and attendees
Having a massage therapist at your event to provide a neck and shoulder massage to event organisers, participants and attendees. It will welcome relief from the event hustle and bustle. The massage will be a memorable addition for attendees to your Adelaide event.
Chill-out areas are popular at conferences and including a massage stand in the rest area is something that will set your corporate event apart from the rest.
With minimum space and no power required, one of our mobile massage stands would be a very simple addition to your next Adelaide corporate event. Please ask us about sponsored branding, too.
Read more about our Event Massage Services or contact us to discuss massage options for your event.
Home Massage & Aged Care Massage Adelaide
You don't have to be a big business to get a massage from Adelaide Mobile Massage. We can arrange to have one of our massage therapists visit you at your home or aged care facility. Your massage therapist will bring everything they need — their massage table or massage chair, towels — even the music.
Convenient for busy people
Our home massage service is ideal for people who would love or really need a massage but just can't seem to find the time to trek across town. And besides, by the time you've had a great massage and then trekked back across town to get home, you're fully stressed again! Who needs it? Let us come to you.
Massages if you're stuck at home
A massage in Adelaide at your home or aged care facility is also perfect for anyone who's unable to drive or has limited mobility. Let one of our fully trained massage therapists come to you.
Read more about our Home Massage or Aged Care Massage Services or make an online booking request
Massage Techniques
Our fully trained and fully qualified massage therapists each specialise in particular massage techniques. At Adelaide Mobile Massage, we can offer a wide range of massage styles to suit your needs:
Remedial Massage
Sports Massage
Trigger Point Therapy
Lymphatic Drainage
Myofascial Release Therapy
Pregnancy massage
A special massage style which is a combination of Swedish Massage and Remedial Massage techniques especially suited to pregnancy massage.
Whatever style of massage you're looking for, we'd love to help you. Please contact us at Adelaide Mobile Massage and let our massage therapists massage you, your staff or your loved ones for stress relief, pain relief, relaxation and health.
Workplace Massage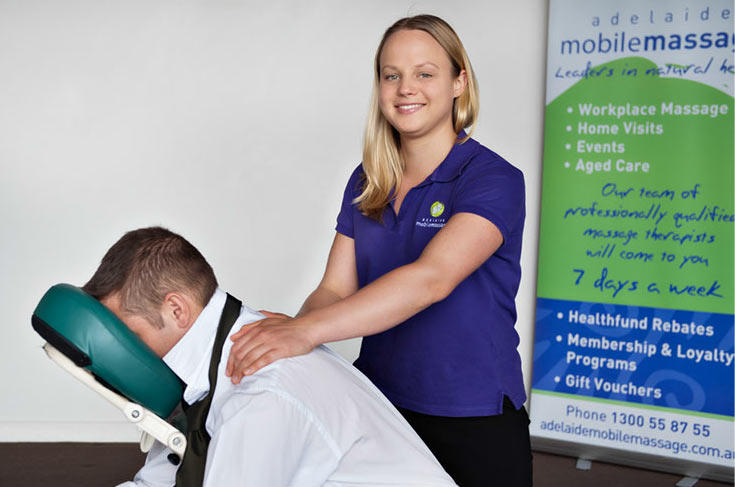 Massaged staff are happy staff!
Research shows that for staff, it's not all about the pay. It's about feeling like a valued member of a great team. Staff value being appreciated by the company and enjoying the work environment. So, get ready to see your staff members coming in on your corporate massage day with their hair up, ready to release stress and get to work.
---
Having a corporate golf day?
Here's a great idea! Why not let our massage therapists provide a warm up neck and shoulder massage? Your corporate golfers will feel more flexible before they tee off. There's only one problem… they won't be able to use a stiff neck as an excuse for a terrible shot! We think that's a small price to pay for a unique and very welcome addition to your day out on the green.
Fully Qualified & Police Checked massage therapists
You can book one of our Adelaide massage therapists to visit your home or Aged Care Centre with confidence. All our massage therapists are fully qualified, have Association Membership, insurance and are qualified in First Aid and have a Police Clearance.
South Aussie with Cosi
Recently Amanda and Vanessa caught up with Cosi as you can see above.
Unfortunately the competition for a free massage is now closed.